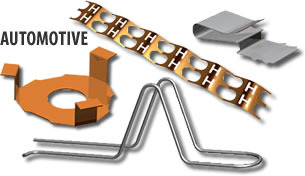 Automotive Stampings
---
Automobiles components throughout a vehicle, are manufactured using metal stamping and precision machining methods.
Metal stamping, involves placing a sheet or coil of metal into a press and forming it into the desired shape over a die or mold. This can be done by fourlside stamping machines depending on the complexity of the required end product.
Automotive stamping allows for the cost effective manufacture of many different functioning parts and is cheaper than CNC or sintering processes.
---
Metco Fourslide manufactures a complete range of fourslide stampings: custom metal stamping, fourslide products, miniature stampings, punch press stampings,
stamped flat springs and stamped wire forms, located in the Los Angeles, California area. • 17540 S Denver Avenue, Gardena, CA 90248
Toll Free: (800) 582-3476 • Tel: (310) 516-6547 • Fax: (310) 323-6365 • Send e-mail • www.metcofourslide.com
© Metco Fourslide Mfg, Inc. ISO 9001:2015 AS9100D certified. All Rights Reserved. Privacy Policy